Discussion Starter
·
#1
·
Kept hearing a tapping noise last night, that the valve noise was coming back but it was only present and certain rpms... Kept driving felt a little *thud* kind of faint resistance and then the noise got louder. I parked it and called a tow truck to avoid something small turning into a catastrophe.
The truck still drives and accelerates perfectly fine. I wont do it again until I find out what the issue is but something is coming undone and I'm not too sure what it is, hopefully one of you do:
Click the picture to begin the video-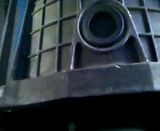 I hate autos.. When Manuals break its always blatantly obvious. :smt042 I planned to eventually upgrade my stall but didn't plan on needing to pull the tranny so soon haha. I'm hopin I am over looking something. The inspection cover is off int he video as well so that's not making the noise. It has an aftermarket VB that I bought from a member on here: Flareside150 whom said it came out of his built transmission.
Other than that I dunno.. Zero OD kick downs and I rarely beat on the thing but its odd to have that noise yet have no affect on the perf of the trans..:smt102 Thanks in advance. Truck wills stay parked till I figure it out. And if I have to pull that POS the trucks gunna sit till I have my headers and stall. Lol, and if it breaks after that I'm selling it and picking up a lifted diesel like I planned :hifu:bolt
Hahaha!:yikes