Lightning and HD Modding 101
Lightning/Harley Modding 101
So you just bought your Lightning or Harley Davidson Edition, and you're ready to start modding it for more horsepower because you want to beat all the Coyote Mustangs and Corvettes in your town, but you don't know where to start. This is supposed to be a guideline to get you up to speed, without having to spend 6 months reading random threads on LR, LG, or God help us, FaceBook.
About me. I don't claim to be a Lightning guru, or to know everything about these trucks. But I joined NLOC (the site we were all at before LR, LG and FB) way back in 2004. I bought my first Lightning in 2007. Since then, I've owned one Gen 1, six Gen 2's, and three HD's. That's ten of these money pit trucks, plus another regular F-150 with a Lightning swap, bringing the total up to 11! I've had trucks with stock engines, mildly built engines, fully built engines, centrifugal superchargers, Eatons, Kenne Bells, Whipples, and turbos. In 2013, I got tired of paying for crappy tunes from "tooning shops" and began teaching myself how to tune my own junk with the help of a couple other Lightning owners who tune as well, and a whole lot of reading and experimentation. Since then, I've tuned dozens of Lightning's, with everything from bone stock no pulleys, to built Whipples, Kenne Bells, and twin turbos. When I started playing with Lightning's, I did very little of my own wrenching primarily due to time constraints with my carreer, but these days, I do 99% of my own wrench turning, I still let others build transmissions, perform alignments, weld, and do machine work, but that's it. Point is, I'm by no means claiming to know everything about these trucks, but I've been around the block with 'em a few times.
Disclaimer!
Some of the information below is fact, much of it is my personal opinion. It may not always be 100% accurate, and you may not agree with it. That's fine. Many of the examples and "rules" I quote in the following information are generalities. There's always an exception to the rule, and I'm sure everyone can cite an example that proves me wrong on almost every single point. But these examples and roadmap are for the 90% of Lightning owners, not the 10% and one hit wonders. They're just guidelines. Additionally, if what you read here causes you to spend too much money, I'm not responsible. If anything you read here, or anywhere else I post, causes your truck to break or malfunction in any way, I cannot be held liable.
Basic Stock Block Recipe and Recommendations
When I and others refer to a stock block, we mean you do not have forged rods and pistons installed in the shortblock of your truck. This can either be a factory motor, rebuilt, replacement, junkyard, whatever. If it doesn't have forged rods and pistons, that's what we mean.
The reason this is important, is the factory connecting rods in our engines are known to be the weak link in power production. Above 450-475rwhp, these rods tend to not be able to take the combustion pressures, and fail, usually spectacularly taking out other components with them. So when I refer to stock block limitations, this is what I and others are referring to. It's not cheap or easy to build your shortblock with stronger forged rods and pistons, often costing thousands of dollars in parts and machine work alone, much less labor, but many many many have done it. If your goals are beyond 450rwhp, you should primarily focus on "going built" before buying big superchargers, fuel systems, etc.
Before You Mod
So if I were starting fresh with a stock Lightning, here's what I would do first and foremost. Maintenance. I'd start by removing the supercharger and cleaning the intercooler, adding an oil separator, replacing the spark plugs with either stock Motorcraft plugs gapped around .045" if I wasn't going to put a larger pulley on the supercharger, or something like NGK TR6's or Autolite XP103's gapped around .032" if I was planning on upping the boost. The higher the boost level, the colder the plug and tighter gap you want to run. TR6's are colder than stock plugs. I'd also clean the MAF, and if in excess of 100k miles, I'd be putting in new front O2 sensors. Clearly change your oil. Also be sure that your intercooler pump is functioning. I would also definitely put a new fuel filter in it. Boosted engines MUST have proper air/fuel ratio, and if you have a dirty fuel filter restricting flow and fuel pressure, this can lead to catastrophic engine failure. In fact, I change my fuel filter EVERY time I change the oil. Overkill? Definitely. But fuel filters are cheap, engines are not. I would also ascertain if the rubber elbow at the lower rear of the lower intake (turkey pan) has corroded or not. If it hasn't yet, it certainly will. You can either replace the elbow, or simply plug the lower intake with a 3/8" NPT plug, remove that line from the lower intake to where it tees into the passenger side PCV lines. Other maintenance might need to be addressed, such as transmission fluid and filter changes, other engine, supercharger, and rear end fluids, depending on condition and mileage.
Getting Started
This is quick list of mods, in order, that I would perform to a stock Lightning or Harley truck.
Pulley, Belt, Plugs, MAF, Must Tune
Cold Air Intake - Should Re-Tune
Ported Supercharger - May Re-Tune, Not Required
Intercooler Cooling Upgrades
Traction Bars
Valve Body
Full Exhaust - Should Re-Tune
Throttle Body and Plenum - May Re-Tune, Not Required
Higher Stall Torque Converter - May Re-Tune, Not Required
The best bang for the buck mod by far, is a lower pulley swap. A 6# lower pulley can usually be had new for $200, or used for around $100. For more information on pulley sizes and ratios with both stock and aftermarket superchargers, see the Superchargers post. Obviously you'll need a new belt when performing a pulley swap, and if you don't already have a colder, tighter gapped spark plug than stock, you'll need to install those as well, such as NGK TR6's gapped around .032". You should also install a larger aftermarket MAF such as an SCT BA2400 or BA2600, or a DiabloSport MAFia. See the Tuning post for more information on those. After those things are installed/purchased, you will NEED a custom tune made for the truck. Not all trucks are the same, even if they have the exact same modifications, so I reccomend a custom tune for your truck. This are generally uploaded to the trucks computer by an SCT device such as an X2, X3, or X4. Again, see the Tuning post for more information.
Next up I would add an aftermarket "Cold Air Intake". JLT makes a nice one, as does JLP. After altering the MAF placement as these usually do, you should have your truck re-tuned. It is not absolutely required, but is reccomended. You could also do this modification at the same time as the pulley and MAF, and only tune once.
Next, I would want to have the supercharger ported. See the Supercharging post for more information on that, but reccomended current vendors include Jokerz Performance, Stiegemeier, and Texas Speed Lab Performance. A re-tune after the porting the supercharger is usually not required, but can be done in order to fully realize gains.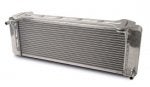 Next, I would want to focus on cooling down the intercooler fluid. All this spinning the supercharger faster makes the blower create more heat. It's simple physics, when you compress air, a byproduct of that is a rise in temperature. When the charge temperatures reach a certain point, the computer in your truck will start reducing ignition timing to prevent engine killing detonation. The cooler you can keep the charge temperatures, the less power killing timing reduction will occur. You can go as mild or wild on this as you like. I'd start with a larger intercooler reservoir, such as one made by JLP or LFP. Then I would delete the stock existing hard intercooler piping on the passenger side of your supercharger by replacing it with 1/2" or 5/8" hose. Next I would add a larger heat exchanger (behind the lower grill) with one made by AFCO or LFP. Finally, I would consider upgrading ALL the intercooler coolant lines to 5/8" or 3/4" hose, and installing a higher volume intercooler pump such as a Mezeire or Jabsco. Additionally, if I wanted to go all out, I would replace the intercooler itself with a unit by Trick Performance, and if I was building a track focused truck, I'd move the reservoir and pump itself to the bed for better weight transfer and distribution. Another option here, but generally associated with a reduction in your air conditioning performance, is a Killer Chiller, which uses your air condition system to cool off the intercooler fluid. No tuning is required after cooling modifications.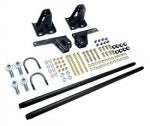 Next, with all this new found power, I would add a set of traction bars to the rear suspension. You can use Metco's, Cal-Tracks, Stifflers, JLP, JDM, LFP, BroncoBeater, whatever method best suits you to help control wheel hop. See the Suspension post for more information on the differences in these traction aids. No tuning is required after suspension modifications.
Next, I would want to firm up the shifts and help put this power to the wheels faster. This is best done by installing an aftermarket valve body, made by BlowerSlut, thePunisher, or Factory Tech. If you're not spinning tires on the 1-2 and 2-3 shifts yet, you definitely will be after installing one of these. It's like a "driver mod" for a stick shift car, only for an automatic. Your transmission will shift faster and harder, and believe it or not, it's actually a good thing for the transmission, reducing the shift time and resulting in less clutch wear. No tuning is required after a valve body install.
Wow, I'm only just now mentioning exhaust? Yep. The factory exhaust is actually not all that restrictive. It's quiet yes, but not very restrictive at these mild power levels (below 500 rwhp). Deleting the cats helps remove some restriction here, as does a good cat-back exhaust. Don't use Flowmaster crap, use a straight through design such as Bassani, Magnaflow, etc. Better yet, buy an actual aftermarket cat-back system made for your truck, as it will likely have mandrel bent tubing instead of pinched up local exhaust shop bends. If you're ready for headers, now's the time. Don't waste your money on shorty headers, but buy long tubes. My favorite for a stock block truck are Dynatech's. They are well made, and are the easiest installing long tube header made for our trucks. Don't forget your O2 sensor extensions when installing long tube headers! Tuning after installing long tube headers is recommended, as you have moved the position of the front O2 sensors.
Another one you might be amazed I'm just mentioning, is throttle bodies and plenums, as these are a lot of owners first modifications. The stock throttle body isn't all that restrictive in an Eaton M112 setup. The gains most people claim to feel by installing one on an Eaton, come from increased throttle response, not from power gain. Good aftermarket throttle bodies are made by Accufab, LFP, and Magnum Powers. You can also port your stock plenum, or add an aftermarket C&L or JLP sheetmetal plenum if you like. You won't see huge gains on a Eaton with these modifications, but you will see some. Tuning after these modifications is not required, but can help with drivability if you have problems.
The next thing I would add, takes a bit of work. That's an aftermarket higher stall torque converter. This won't make you any faster on the street, but when paired with a sticky tire at the track, can really decrease your 60' time, resulting in an overall quicker ET. Popular manufacturers are Precision Industries and Circle D. You don't need or want some huge 3000 rpm stall, a simple 2400-2600 rpm unit will give you the best results. You should also upgrade your transmission cooler at this time, and a re-tune will yield the best results.
Why isn't _______ listed?

Because it's not needed at this point.
You don't need larger fuel injectors at this point, because your stock 42# injectors will support a little over 500rwhp.
Twin Wallbro 255 fuel pumps SHOULDN'T be needed. The stock fuel pumps, if in good condition with a clean filter, will support just about anything an M112 Eaton can make, unless you add nitrous to the equation. If your stock pumps are in poor condition, weak, worn out, or a split y or hose, then they will not be enough. At this point, rather than simply replacing them with new stock pumps, go ahead and install twin Walbro 255 pumps. More on fuel systems in the Fuel Systems post.
You darn sure don't need big lopey camshafts yet. I understand you want to impress your friends by sounding like a 10 second Lightning, but why sound awesome, and run slow? Such a disappointment. It's like walking into a party with the hottest girl you know, to make everyone jealous, but it turns out she's your sister and you can't date her. It's dumb. On top of that, they're not going to help you make any more power right now. Beyond that, they are difficult, time consuming, and expensive to install. You're looking at $600 for the cams, another $100 plus for proper valve springs, retainers and locks, and if you pay someone to install them for you, they're going to charge many hundreds of dollars. By the time it's all said and done, you've got $1500+ in a cam swap, just to sound cool and be slow, when that money can have you more than halfway towards a built shortblock, with which you can ACTUALLY go fast!
You don't need an aftermarket supercharger like a Whipple or a Kenne Bell at this point either. Your stock Eaton M112 supercharger can make more than enough power to scatter your rods all over the street. Yes, there are some efficiency gains to be had by upgrading, but not much. You are much better off taking that money and investing in a built shortblock or fully built longblock. You'll make more power with an ported stock Eaton M112 on a built shortblock than you will with a 2.3L Whipple on a stock block.