·
Even Then I Was Old Skool!
Its time. Vinnie, Stan, and a few others know I've been on the fence for a year. Knowing that... I still haven't stopped modding this truck, but before I put the ad up on CL, I figured put it here where many know me and the truck. Its been a great ride since 2006 when I got it... and to this day I still love driving it. But the time for my next bucket list ride is way overdue.
All the details are listed below... probably left a few out. I'm thinking there's over $40K invested, almost $10K of that is in the custom candy ghost flame paint work. I'd like to get close to $30K/OBO with everything including many of the OEM parts, extra wheels/tires, hood, grills, etc. as long as the buyer is serious and doesn't try to low-ball me. In fact... if somebody on Lightning Rodder buys it at my price and takes everything, I will also include a set of ModMax H-Beam Rods that were take-off on a new engine build. All they have is break-in hours, not much more and they have ARP2000 Studs & Bronze Bearings. With a low-mileage motor, you could have a nice built bottom end for probably not a lot more than a grand if you do the install and have a local shop balance it.
Black Exterior, with PPG Candy Liquid Crystal Blue Trim, House of Kolor Silver Pearl pinstripe, tribal ghost flames in PPG candy pearl, 15 coats of Glasurit Clear Coat, Custom Painted by Chris Cerce Customs in Tauton, MA. This truck is garaged 24/7, has never seen snow, been in the rain no more than a dozen times... stored and covered (you get the cover too) from Thanksgiving to Easter. I have original owner's delivery documents, the original SVT Documentation, and much more. Truck has won trophies in numerous shows, and is as turn-key as it gets. A cruise night or show always brings dozens of people asking about the truck and complimenting the condition and detail. Seats are in amazing condition, no pilling, no tears... always covered except for shows and GTGs.
The Basics
42,005 miles
Clean CarFax, no accidents
Clear MASS Title in hand
2nd Owner (owned since 2006) Adult-driven, Non-Smoker, Never Raced
Passes MASS Inspection (toughest next to CA)
SVT Build Number: #0083 of 6381
SVT Build Date: O1-15-2001
The Details
Foose Custom Order 20 X 10 Nitrous II Chrome Wheels, Toyo Proxes ST 295-40/20 tires
New Pro-Forged Inner & Outer Tie Rods, Idler Arm
New Suspension Technology Front Snubbers
New Ground Force Drop Springs
New Raybestos ISOs
Belltech 2" drop Spindles
New Raybestos-Spicer Professional Grade Upper & Lower Control Arms
New Raybestos Professional Grade Lower Ball Joints
Just Aligned last month
TVS Rear Leaf Springs
Strange Adjustable HD Rear Shocks
New NAPA Premium ULTRA front Rotors
New NAPA Premium Inner/Outer front Wheel Bearings
New Ford Extreme Duty Front Brake Pads
New Bosch Fuel Pumps
Bassani Equal Length Headers, SS Mids with Hi-Flo Cats, SS X-Pipe, Bassani SS Cat Back
New SS 4" Overlap muffler clamps
JDM eFan and Relay with Over ride switch
Cobra R Type Water Pump
DMR Complete Cog Setup, 6# Lower, 2.93" upper
Brand New GATES GT3 Cog Belt
Custom Polished Idler Bridge
Polished SS Relay Cover
Billet Aluminum OTT catch can
Polished JLP Radiator Overflow Tank
Polished JLP Oversized Intercooler Tank with built in Windshield Washer Reservoir
Wiper Mod with squirters in blade arms
Polished SS Underhood Specialties Shroud setup for regular or suicide hinges
JDM Shift Kit
Ford 4 X 4 Deep Trans Pan
JDM Boost Bypass Mod
Show Polished Magnum Powers Supercharger with Cobra Rotor Pack
SCT BA 2600 Billet Aluminum MAF
Polished SS AirForce1 Intake Elbow
Polished Billet Chickenears Cool-Aid CAI
Polished AccuFab Single Blade Throttle Body
Show Polished JLP High-Performance Plenum
DMR Billet EGR Cap, full EGR delete
KillerGlass See-Thru Radiator Hose
Chicken Ears Billet covers for Battery
Chicken Ears Billet Fuse box Cover
Chicken Ears Billet EVAP Cover
Chicken Ears IAC Cover
Chicken Ears Front Hood Stop Covers
Chicken Ears Billet Hood Latch
Compustar Alarm with remote start, wireless pager
Custom SVT License Plate Frame in Blue, Black, and Chrome
Billet Upper & Lower Grills with offset SVT Logo
Harwood 3" Cowl Hood, fitted and painted underside, additional Mid-bump-stops
StrongArm HD Oversize Hood Pistons with Custom Billet Covers
Gaylord Speedstur Fiberglass Bed cover, modified ears to prevent scratching.
Cervinis Roll Pan kit, painted to match just installed
New Bed Rug cover just recently installed
Windows tinted with special Solar film
Triple Pillar Pod with Fuel Pressure, Boost, and AEM A/F Gauge
Steering Column Pod with SVT Logo'd Interceptor gauge
Billet Shift Knob, Billet Turn Signal, Billet Tilt Knob.
Custom Console with Backlit Display Panel
Custom Console Lid by Eric Grey
Custom Power Passenger Bucket Seat by Chris Conrad
Driver's Visor with Genie Garage Door Controls
Pioneer APPRadio3 Double DIN with built in DVD player, can be set up for Rear Camera, wired for Apple iPhone4 for hands-free phone, GPS, Email, and more. Works with both iPhone4 and all Android phones.
Shorty Antenna
Behind Seat Custom Phoenix Gold M44 Amplifier setup with two 8" (2) Subwoofers, dual channel 300+Watt amp, MBQuart dual tweeters, dual mid-range speakers
California Custom Lightning-Fitted Indoor Dust Cover
SCT III Tuner with Custom Dyno Tune by Total Induction Tuning Solutions
MIL Eliminators installed on rear O2 sensors
Heater Hoses re-routed out of sight with Helicoil elbows
Lots of SS Braided Hoses with both real and fake AN fittings
Killer Glass Radiator Hose Connector
Many Extras Go With The Truck… But if somebody wants to make me an offer where I keep some/all the extras listed below, I'm open to it.
Factory Hood in great condition
Factory Rear Bumper in great condition
Full Set of Factory 2001 Wheels mounted with tires awesome condition
Factory Air Cleaner
Factory Leafs and Coils
Tow Hitch Setup Complete
Factory Radio/CD Player
No... I'm not selling any parts so don't ask.
I'll post more pix in the follow-up below, which will be Image Heavy LOL. And if you're wondering where I'm going... its nowhere. I'll be around for a long time as I've made some great friends here and don't intend to walk away. I've owned the truck outright since the day I bought it, I don't _have_ to sell it. But if/when I do... most likely it'll be replaced by a '60's era Camaro or Mustang, definitely _NOT_ a numbers-matching car, just a nice looking, nasty sounding cruiser that has room for four. Probably automatic although I might be able to go with a stick since the DD is now automatic and AWD. Would also consider a trade for a Camaro or Mustang provided it met my vintage criteria and it was of equal value.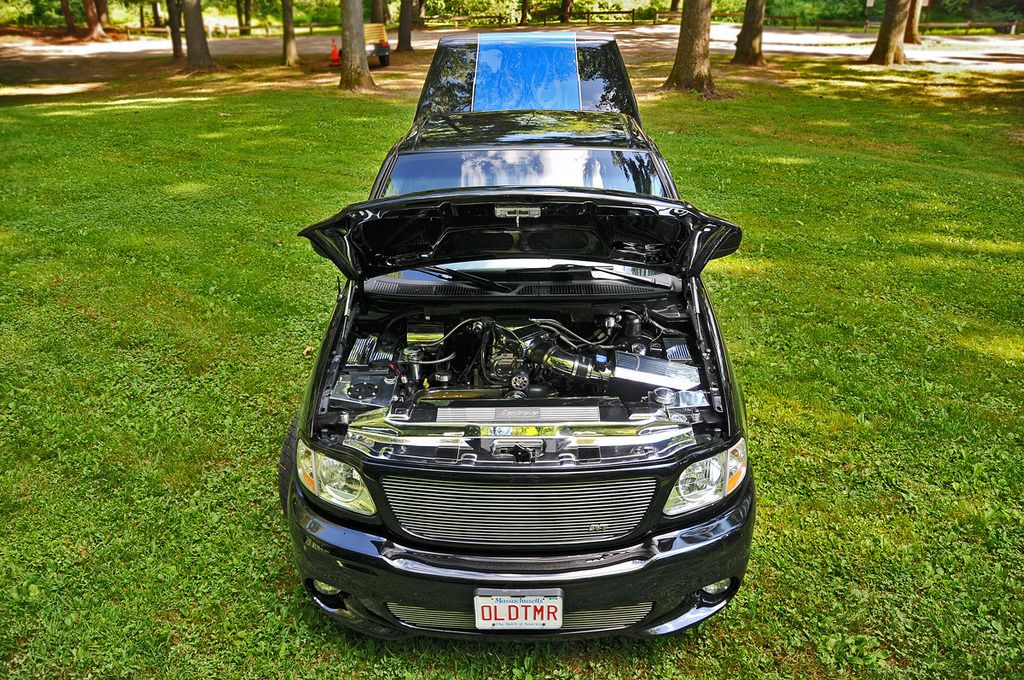 Just listed on Craigslist:
OldTimer's 2001 Black Custom Lightning on Craigslist