On3Performance Turbo System Review...
---
Well just recently we had an opportunity to install one of On3's 3V Turbo kit's on Justin's 2006 Ford Mustang GT... First let me start off by saying for the price... It's a great kit!
Now this kit is not without issue, but none of them are in my opinion. One of the biggest obstacles with Justin's car was that his is an 06 and On3 designed this kit on an 07... Key differences in these model years are the coolant crossover design and the use of a remote thermostat housing much like the 03/04 Cobras on the 05/06 models which was done away with in 07. If you have an 05 or 06 model you will "have to" in order to install everything correctly... locate a coolant crossover from a 2007-10 model with all the appropriate radiator hoses and modify those based on On3's instructions. Another issue we had was with the radiator fan shroud... Justin decided on the 76MM Master Power turbo upgrade (a great upgrade I might ad), but as On3 told us later they had never physically verified it's fitment. So a custom Flex-A-Lite fan setup later and we were good to go.
Here's my conclusion: In the end, the kit fit good with minor modifications, and the cooling system provisions for the 05/06 models should be disclosed, however... If you are on a budget and looking for a turbo kit that fits into it... Not sure your gonna get what your looking for here... Justin's kit retails for about $2500 w/ the turbo upgrade and by the time you add the items not included such as MAF flange, Air Filter, Injectors, Fuel pump upgrade or Boost-A-Pump, gauges if wanted, installation, modification, and tuning the kit will end up costing upwards of $6500 in the end. One would be very close to an HP Kit installed for that price. Does the kit make power, yes it has proven to and we will see after tomorrow what Justin's car does. I'm not saying people shouldn't buy this kit, my point is if you can't install and/or modify it yourself or have a buddy that owns a shop who can don't expect this to really be a cheap way out! The biggest concern with these kits for everyone who has used them has been exhaust leaks... Well we have NONE! After we spent hours making the necessary modifications to prevent them. I know this is a long read, but I want you guys to realize one simple thing... YOU GET WHAT YOU PAY FOR, and in the end you will always PAY the piper one way or another! Thanks for watching!
P.S. Justin you made a great choice in going turbo and we can't wait to see what a beast your car becomes!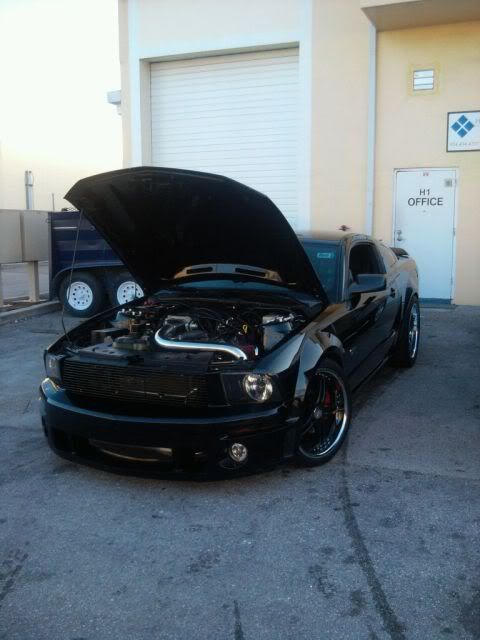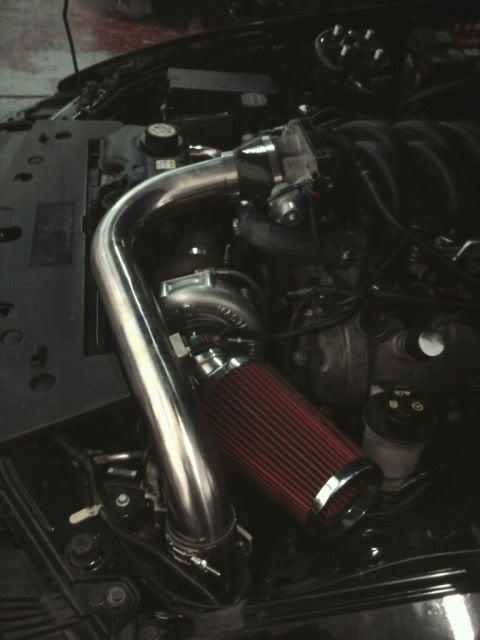 Dual Money Pits
Join Date: Jan 2009
Location: Orlando
Posts: 4,503
Rep Power:
55131950
looks good, crazy to see how much the final bill ends up being though! Were the modifications required something the mechanically inclined would be able to tackle on their own?

Also I saw one of those body style GTs leaving the dyno up here and it survived the dyno runs, then promptly blew an oil line off the oil filter relocation kit. It looked like A) the hose provided was too big and B) the crappy clamp couldnt keep enough tension to keep the line in place. Did this kit use a filter relocation setup and do you have any thoughts on it?
---
12 FX2 F150 - ecoboost, super crew
03 DSG Mach1 - 10.1:1 aluminator, cammed, full exhaust, ported intake, D1SC, magnum t56, built rear etc...and dont forget the corn juice
It actually did come with the relocation kit, however we upon reading up on it decided to modify the intercooler pipe for better clearance to allow the use and easy change of a factory oil filter. Most of the modifications necessary were welding related so if you can weld your golden otherwise... Nope!
Poor driver mod
Join Date: Aug 2010
Location: Honolulu Hawaii!!
Posts: 1,414
Rep Power:
15544769
how much boost is it pushing?
what turbo is it?
where does it build full boost(rpm)?
about how many hours to install?
how much power to the tires?
It has the Master Power 76mm upgrade, she sees about 6.5lbs of boost, the turbo sees 1psi at about 2800 and reaches full boost by 3500rpm from a dead stop without brake boosting and maintains full boost through the shifts thanks to the WOT Box, she made 450/470 to the wheels, and honestly with everything that needed to be done real time on the install was probably 15 hours.
Poor driver mod
Join Date: Aug 2010
Location: Honolulu Hawaii!!
Posts: 1,414
Rep Power:
15544769
Nice!
Thanks for the quick and informative reply (no sarcasm this time)
Well it's been a while, but I wanted to touch base on Justin's car. The Master Power 76mm unfortunately didn't last and he has just upgraded to a 76mm Billet Wheel Precision unit. With the built bottom end his car made 640/640 @ 14psi of boost. He's going to be getting her retuned this week on E85 and we'll see what becomes of it. All in all... I'm very impressed with this kit and having done a few more since this one I'm now recommending them to my customers with our modifications and it's still coming out cheaper than most other kits with much more potential. The HP kit uses 2.5" piping limiting it's ultimate power output the ON3 kit is all 3" so it's a big plus when it comes to moving air.
---
Last edited by 95RioRedCobra; 09-28-2011 at

10:07 AM

.
Currently Active Users Viewing This Thread: 1

(0 members and 1 guests)